Each year, payment errors account for $300 billion in unnecessary spending in healthcare. Which is $300 billion reasons why healthcare relationships are being damaged.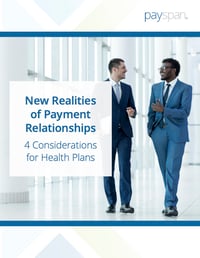 In our New Realities of Payment Relationships white paper, you will discover the 4 considerations for Health Plans and you will also:
Understand the impact costs, engagement, and success have on financial relationships
Learn the key challenges that health plans and payers face in the current healthcare landscape
Learn what to look for in a payment partner
See the financial ROI of traditional vs. electronic payment, communications, and remittance
Submit the form to gain immediate access and download permission for the white paper.